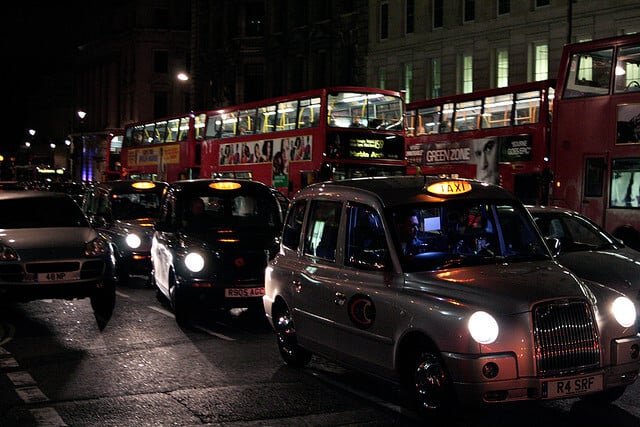 Previously at GoTaxi we have discussed what taxi drivers should do if they encounter a difficult fare, however most taxi drivers would often rather avoid such a fare in the first place rather than deal with it when they have no other choice. However, there are certain rules concerning taxi drivers refusing fares, rules that cause a considerable amount of debate in the taxi industry. So here we look at the issue in more detail:
Finding Taxi Fares
As a public hire taxi driver your income depends on finding a reasonable amount of fares during each shift which means that most taxi drivers rarely turn down fares if they can help it. Furthermore, in order to gain as many fares possible during each shift taxi drivers tend to head to busy areas where there are crowds of people all looking to get somewhere. Unfortunately, this often means picking up inebriated individuals from busy high streets on Friday and Saturday nights who can sometimes be erratic or inconsiderate of you, the taxi driver. If you are uncomfortable with picking up this type of passenger then you may want to avoid working during these times or head to areas where passengers are more amenable. Train stations for example are a great place to pick up businessmen during the early hours of the morning who are less likely to give you any trouble!
Refusing a Fare
Of course, there are times when taxi drivers are allowed to refuse fares, such as when they fear for their safety or a passenger asks something unreasonable. For instance, most taxi drivers not based in large cities such as London or Manchester will refuse a fare if the customer asks to pay by credit card as they do not have the means to process this type of payment. Furthermore, you can refuse a fare if a passenger asks you to take them somewhere well out of the way (think Portsmouth to London or something similar). Naturally, it is up to you to discern how 'too far away' is, especially if your fare is willing to pay you for the journey!
Human Rights Laws
Even though taxi drivers are allowed to refuse fares in some circumstances, they are also bound by law to take a fare as long as their request is 'reasonable'. Furthermore, taxi drivers refusing a fare due to a passenger's race, religion, physical disability, sex or sexual orientation is a breach of Human Rights Laws, meaning that they can be prosecuted. The issue here is that very few taxi drivers can agree as to what constitutes as 'reasonable', let alone taxi drivers and MPs. This is why there has recently been a considerable amount of controversy in Scunthorpe after the local council announced that taxi drivers could receive 8-12 points if found unreasonably refusing a fare.
Some taxi drivers have claimed that these new regulations will put them in danger, such as John Fleming, owner of Triple A Taxis, who said: "At a licensing committee meeting we were told that we had to take fares no matter what and if we refuse for any reason we will be prosecuted. What happens if I get someone in my taxi who is threatening? I'm worried about my safety. Where is the safety for the drivers?" However, Councillor Keith Vickers, who chairs the licensing committee, said: "If there is a reasonable reason for not taking a fare this will be considered. Every case will be considered on its own. If we receive a complaint we will look into it."
How to Refuse a Fare
If you are in the situation where you believe you need to refuse a fare then the first thing you need to do is ask yourself is whether your reasoning falls in line with current legislation. If it does, then make a note of the date, time and location of the area where you refused the fare as well as your reasoning (it is always best to write all this down). If there are any witnesses in the area that have seen you refuse the fare then you may want to ask them for their details in case you need their support in the future. Remember, if a passenger becomes violent you should move on as quickly as possible and alert the police of the situation.
As the cost taxi insurance, fuel, MOTs and general taxi maintenance is so high, it's not surprising that most taxi drivers don't turn down fares very often. However, if you ever feel you need to make sure that it is for valid reasons and that you have evidence to back you up should you need it.
Photo by nastia / CC BY-SA 2.0